Have you ever sat in your bathroom and noticed how dirty your shower caddy is? I did, and boy, it wasn't a pleasant sight. Since I had problems cleaning it, l always wondered to myself, how to clean shower caddy correctly?
You must remember, shower caddies are always exposed to cleaning agents as well as water daily, they collect a lot of dirt over time, such as water spots and soap scum.
Cleaning your shower caddy is easy and straightforward. All you need is a home-made cleaning solution and some elbow grease. Let's see how you make it and what needs to be done.
For this post, we are going to show you simple hacks to make cleaning easier. It's crucial worth remembering that cleaning depends on its material, for each material we are going to have an in-depth discussion of how to clean and maintain them. So, let's get to it!
How to clean a rusty shower caddy?
Most shower caddies have been designed to let the water run through it, which means it will be wet every time you shower.
The good news is that it can be returned to its original state by using accessories and materials which are readily available in the bathroom. Here are a few simple steps of how to clean a rusty shower caddy.
Step 1
Begin by removing the shower caddie from the showerhead, then leave it outside for a while. Brush the chromium or stainless-steel caddies with a brush to loosen the rust.
Step 2
Dip the shower caddie into half or one cup of white vinegar onto a sink, cover all the rusted sections with baking soda. Scrub all the rusted spots with a nylon scrubber. Keep on adding as much vinegar and soda as you need till all the rust stains are removed.
Step 3
Using a clean cloth or dry sponge, rinse the metal caddie in warm water. Dry the stainless steel and chromium caddies with a clean and dry cloth.
Step 4
Using a damp sponge, apply one teaspoonful of car wax onto it. Wipe all the areas of the shower caddie with the damp sponge.
Allow the caddy to dry for approximately 15-20 minutes or wait till the surface becomes hazy.
Step 5
Wipe the metal caddie using a lint-free cloth, thoroughly wipe the shower caddy but be careful not to remove its coating till it becomes shiny and sparkly.
How to clean a metal shower caddy?
If you are using a stainless steel or chromium metal shower caddy, they are designed with tiny holes that might be invisible to the naked eye.
These holes are exposed to oxygen as water goes through it, causing oxidation leading to rusting. Well, if it rusts, this doesn't have to be the end of it; cleaning it is relatively easy and affordable.
For this section, we are going to look at methods of how to clean it the right way. Here are the essential things that you should always have:
White vinegar
Scrub brush
Baking soda
Towel
Step 1
Fill a bucket or bathtub with sufficient water that will fully submerge the caddy, mix half a cup of water with one and a half cup of white vinegar.
Step 2
Put the caddy in water and vinegar solution for approximately 15-20 minutes, ensure that you leave it till the rust or scum begins to soften.
Step 3
Mix baking soda and a bit of water till it forms a paste. Rub the paste onto the soap scum or dirty spots. Pour one cup of vinegar over the caddy's surface, when vinegar is combined with baking soda, fizzing sound and bubbles will start to appear.
Step 4
Using a clean cloth or lint-free towel and wipe it till its free of spots.
Tip: You can also remove the rusted spots using a commercial rust remover. Cover all the spots of the caddy with nail polish, preventing it from further rusting.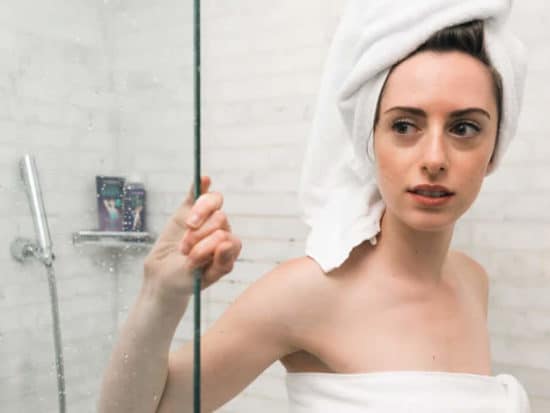 How to clean a plastic shower caddy?
For those with plastic shower caddies, you may feel luckier as they don't rust. Well, we've got some news for you; plastic shower caddies do become dirty as water and liquid soaps run through them.
The next question that will be in everyone's mind is how to clean a plastic one. When it comes to the cleaning of shower caddies, the plastic one is one of the simple and easiest to clean.
It's good to clean the plastic caddy from time to time to remove the spots and scum between the tub edges and shower wall meet.
All the essential cleaning requirements that you need are water, scrub sponge, and mild soap. Here are a few essential steps that you should always follow
Insert the caddy into a bucket full of soap liquid, and ensure it is fully submersible in the soap solution.
Thoroughly scrub all the regions until all the hard spots and scum have been removed.
Fill the bucket or water tub with clean water and rinse the plastic thoroughly. Finally, wipe the surface with a clean cloth till it's fully dry.
Re-install it back as it was.
The plastic shower caddies on the market have different shapes and designs; some are fitted with suction cups that are mounted on the walls. It's always recommended that before re-installing one, you should clean the walls and thoroughly wipe it before putting the caddy back on.
Tip: I always advise my readers to use a clean cloth when wiping the shower caddy.
How to clean a bamboo shower caddy?
A bamboo shower caddy is made of bamboo material and is designed with all the unique features that cater to all of your shower needs. Keep in mind – they are made of delicate materials that require extra attention and care when cleaning it.
You don't want to damage your elegant caddy because of not knowing how to clean it properly. In this section, we are going to look at how to clean it the right way.
You can wash it with soapy water after wiping it thoroughly, wipe it completely with a clean towel and let it dry. To maintain its durability and shine, oiling is essential, keeping it in tip-top condition.
You may also opt for oil soap or a floor cleaner, which has a neutral PH which smoothens the caddy and removes any water stains or soap scum. Then proceed by removing the soap solution with a clean towel or humid sponge.
Another option is cleaning it with a mixture of vinegar and water, add ¼ cup of both water and vinegar. Using a damp sponge or cloth wipe the surface. The smell of vinegar dissipates quickly, so it's vital to add a bit of oil, giving it a pleasant smell, I recommend wiping it with lavender oil which comes with a calming influence.
You can also use a half-gallon of water and few drops of cleaning soap, wipe it using a soft sponge, for those places that are difficult to reach you can use a toothbrush.
How to clean a teak shower caddy?
Teak is a natural hardwood which requires little care in terms of cleaning and maintenance, because of its high oil content teak is resistant to rot and mold.
However, it's not treated or not cared for properly. Its natural color will start to change into grayish-silver color. We are going to briefly look at ways of How to clean a teak shower caddy?
Teak can be cleaned using either home-made cleaners or those bought from the store. You must always avoid strong chemicals as they can dissolve the teak.
For those who prefer home cleaning solutions here are some things you'll require
1 gallon of warm water and a cup of vinegar
1 gallon of warm water and 1 cup of laundry detergent and a cup of chlorine bleach
1 cup of warm water and a cup each of laundry detergent (without bleach) and ammonia
Using a nylon scrub brush, gently scrub the mixture. Allow the mixture to soak on the teak for approximately 15 minutes and rinse it with water thoroughly.
It's always advisable to clean it outside due to the messy nature of the mixtures, which might damage your floor. If you opt for cleaning inside, always ensure you protect yourself by wearing protective gear and always clean in a well-ventilated area with open doors and windows if you have a fan, it's advisable to use it.
TIP: Whichever the mixture you decide to go with, never try to mix them, especially ammonia and chlorine. Its combination can lead to the creation of a very toxic gas, which can be very harmful to your respiratory system.
How to clean a mesh shower caddy?
If you leave in dorms or communal housing, it's possible that you might share a bathroom with a lot of people, and hygiene is usually very vital in this situation. The first thing that you need to do is get a mesh shower caddy.
They will keep all your toiletries and bathing accessories neat and organized. Just like any bathroom furniture or accessories, they get dirty, so you might wonder how to clean a mesh shower caddy. Well, worry no more we are going to show you just how to do it.
Without any doubt, they are one of the easiest to clean. They don't require any special treatment or use of a cleaning agent to wash it.
There are two major ways of cleaning. The first one you can simply machine wash it; this is quite simple and does not take up much of your time.
The second option is for those who are in dorms and camps, and they don't have access to a washing machine; you can just machine wash it.
You should always pay special attention to the washing instructions that came with a product to get proper washing instructions. But in general, it should be fine if it's washed in cold or warm water.
The Simpler Way
For those of us who want an easy and simpler time when it comes to cleaning, well what if I told you there was an easier way to do it. Any type of shower caddy regardless of the material it's made of can be washed in a dishwasher.
Caddies are all made to be resistant to cleaning agents and water, so they can easily be washed in a dishwasher. However, it may not be recommended to wash any wooden shower caddies (like bamboo and teak) in a dishwasher as it may tamper with the durability and smoothness of the wooden caddie.
Some plastics caddies shouldn't wash in dishwasher. At the time of purchase, it's usually very important to read on the maintenance label to know the right mode of cleaning.
Q&A section
How to remove soap scum from shower caddy?
Well, it's usually an easy process, all you need is warms water, mild soap and sponge. Dip the caddy in a bucket full of water and soap. Rub all the parts of the surface with the liquid soap and finally using a clean cloth wipe the shower caddy.
Will vinegar damage chrome fixtures?
Vinegar is categorized as mild acid, but it's still an acid. If you sparingly use it as a cleaning agent, it won't damage your chrome fixtures but, prolonged exposure to vinegar will cause the chromium coating to chip off.
How do you make stainless steel appliances shine?
When it comes to cleaning, baby or mineral oil will just do the trick. Just apply a few drops onto a clean rug. Follow the grain of your stainless steel in opposite directions and cover all the right spots.
Does WD 40 Remove rust Chrome?
WD40 is not only a rust remover, but it also acts as a cleaning agent. You just apply the WD40 onto the rusted regions and give it a few minutes to dissolve, WD40 will cut through the chrome metal and dissolve the rust. After it has shed off, wipe it with a clean sponge or lint-free cloth.
How do you get water spots off stainless steel appliances?
Here are a few essential things you'll require: baking soda, vinegar, lemon juice, olive oil, spoon, and clean cloth. Stir all the ingredients into a bowl till they form a paste, apply the paste onto the water spots.
Leave them for approximately 15 minutes and thoroughly wash your stainless steel with clean water and wipe it afterward.
Final word
Cleaning your caddy shouldn't be a laborious process; in the above articles, we have extensively discussed various ways of cleaning shower caddies of different types of materials. Now you know how to clean shower caddy with ease.