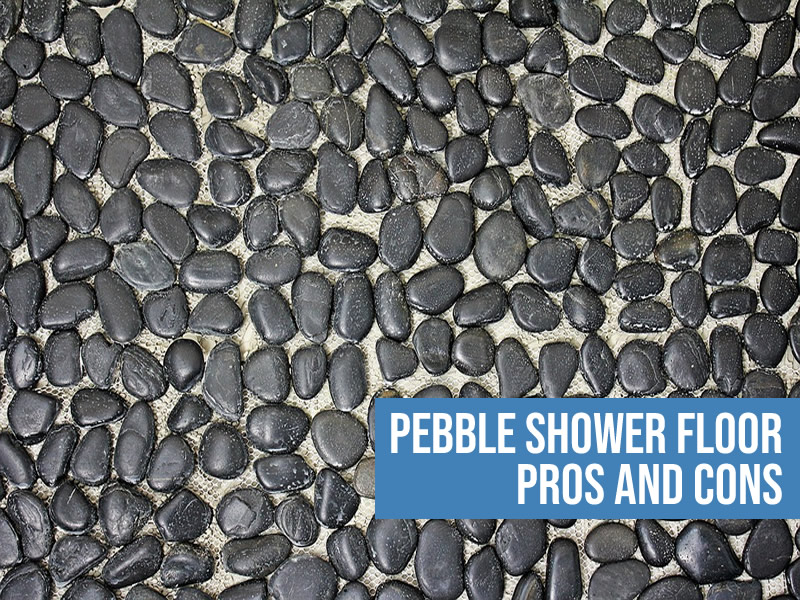 Pebble stone or tile is one of the natural materials that add the earthy look of nature to your indoors. The best place to use pebble tiles is your shower floor.
If you are interested in interior décor, this could be a creative idea for your home. But before that, you need to get an idea about pebble shower floor pros and cons.
You can find pebbles of different shapes, sizes, and colors. Tiles made of pebbles are not only easy to install, but they also make the interior look good.
Pebble tiles are popularly used for bathroom or shower flooring. You can select the design and style of pebble tile to match the rest of the interior of your shower.
The shower is the best place to rejuvenate yourself. Instead of getting plain white tiles, you should do something creative like pebble tiles. For those who are unaware, pebble tiles have many advantages.
For instance, flooring made of pebble tile is less slippery and more attractive to look at. But at the same time, it also has a few drawbacks. In this guide, I will tell you everything about pebble shower floor pros and cons.
Pebble Shower Floor: Good or Bad?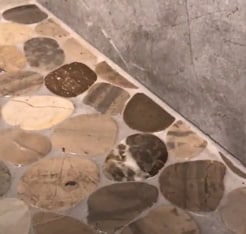 A pebble is different from other types of flooring materials. The best thing about getting a pebble bathroom floor is that it looks great. It gives a Zen or spa-like feel to your shower. Since pebbles are available in a variety of shapes, designs, and colors, you can choose any design that suits your shower interior.
Now the question is the pebble floor for the bathroom good or bad? Truth be told, different people have different opinions about it. It's like some people find it attractive and some others don't. So, it depends on each person and their liking.
Many of you want to know "Is pebble tile good for the shower floor?" Just like every other thin, pebble stone bathroom floor also has its fair share of pros and cons. No doubt it looks attractive, but it makes the installation process difficult.
Not just that, but a pebble stone bathroom floor may also hold water as they are unable to drain water properly. So before you think of installing one, you need to know about its pros and cons.
If you want to know more about pebble shower floor pros and cons, you should read through this entire article as I will be discussing more important things about it.
The Good: Is pebble good for the shower floor?
Let's first talk about all the good things about the pebble bathroom shower floor.
Pebble Flooring Cost
First of all is the pebble flooring cost, which many of you want to know. The price of the pebble tile is determined by its size and durability. The larger the size of the pebble tile, the higher the cost.
As far as installation is concerned, expect it to cost around $4 to $8 per square foot. For natural stone flooring, it costs about $5 to $10 per square foot, and for stone flooring installation, it costs an average of $7 per square foot.
If you compare the prices of pebble tiles and stone flooring, pebble tiles are cheaper.
Are Pebble Shower Floors Slippery?
Actually, this is the most common question I receive. Well, unlike other shower flooring materials, pebble tiles are not slippery. This is one of the biggest reasons behind its high popularity.
Despite getting wet, pebble tiles don't become slippery, so you have no risk of slipping. Even when wet, they are ideal for walking. That's because they provide strong contact friction.
So if you want a safe and non-slippery shower floor, pebble tiles could be a great choice. They not only look attractive but are also safe to install.
Are pebble shower floors comfortable?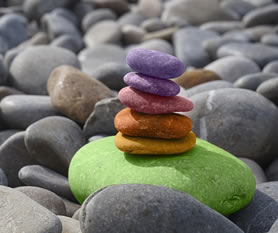 The next big question is "Are pebble shower floors comfortable?" If you have seen pebble tile flooring before, you know they appear uneven. Many of you may assume it to be uncomfortable to walk on. However, that's not true.
The uneven surface of the pebble floor has a great massaging effect on the feet. After a long day of work, when you enter the shower bare feet, it can give you a relaxing feel.
If you want to enhance this effect, you should go for round pebbles. They are better than the square ones. The more natural pebbles you use, the better results you will get. The pebble is actually very fun to use.
The Bad: Pebble Floor Problems and Issues
Now that you already know about the advantages of the pebble stone floor, it's time to discuss pebble tile shower floor problems.
Water draining issues
This is one of the biggest problems of pebble-style flooring. Pebbles that are raised from rivers cannot drain water properly. That's because water easily sits between pebbles, instead of making its way to the drain.
Water retention by pebbles means wet grout, which can eventually lead to the growth of mold and mildew. Due to this reason, many tile manufacturers have introduced the "flat" or "sliced" pebble styles, which are better than the regular ones.
They use a ton of grout
Grout has always been a big issue for homeowners. That's because they don't like it and don't want to waste time cleaning it. As far as pebble tile shower floors are concerned, they require a ton of grout for proper installation.
When it comes to installing a pebble tile shower floor, it takes about 2.5 times more grout than a mosaic shower floor.
Grout is a cementitious product and water can easily get in it. However, if you have a sloped surface, it shouldn't be a big deal. The problem with grout is that it stays dark in the areas where the water goes. This makes the flooring look dirty and splotchy.
Pebble tile installation
Installing pebble tiles is yet another problem faced by homeowners. In comparison to other floor types, pebble tiles are difficult to install. Not just that, but it is also quite time-consuming.
It takes special equipment and skills to install pebble tiles. The pebble pieces are never exactly square, which makes installation very difficult. The edges of pebbles are all different shapes, so when laid next to each other on a shower floor, they don't fit together. To get a seamless installation, one has to take individual pebbles off of the sheets and space them by hand.
Mold/Mildew
Due to poor water drainage, pebble tiles can turn into a favorable spot for mold and mildew growth. This not only looks ugly, but it is also a potential threat to your health.
To prevent mildew and mold from growing, you need to the pebble stone tiles as dry as possible at all times.
Do Pebble Shower Floors Need Sealing?
As you already know most shower flooring requires sealing. But do pebble shower floors need sealing?
The answer is yes. Sealing your floor is very important as it helps you to keep your pebbles looking great for years to come.
It is recommended to seal your pebble tiles before you grout them. For this, you can use a quality penetrating sealer. Using a low-quality or cheap sealer can lead to many problems in the future.
Do you have to reseal the pebble shower floor every year?
Now the question is do you have to reseal pebble shower floor every year?
No matter, what type of pebble bathroom floor you have, you need to reseal it regularly. This is important so that you can prevent damage from elements like dirt and moisture.
Pebble tiles installed in the shower are always at more risk for water damage. This is the biggest reason why you should seal these tiles often. Sealing usually lasts up to 6 to 12 months.
When it comes to sealing pebble shower tiles, you should start checking it around every 4 to 6 months to see how the sealer has held up.
Pebble Shower Floor Mat
Pebble shower mats could be the perfect thing to add to your pebble floor. It is designed in a way that prevents you from slipping when you are in the shower.
Many of you must be wondering why to get a pebble shower mat if you already have a pebble stone bathroom floor. Well, these pebble floor mats make a great addition when you have trouble with your shower floor. If your floor has become slippery, you can get a pebble floor mat for your bathroom.
Pebble bath mats not only look attractive, but they are useful in their ways. They add a natural touch to your bathroom. But most importantly, they are non-slippery and reduce the risk of you falling and hurting yourself. You can find pebble shower mats both offline and online.
Pebble Shower Floor: Yes or No?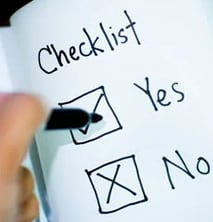 Now that you are aware of the pebble shower floor pros and cons, it should be easier for you to decide whether you want to install it in your shower.
There is no definitive answer to whether you should install pebble tiles in your shower or not. Everyone may have a different opinion on this. The thing that matters the most is what you want.
You should base your decision on the pros and cons of pebble shower tiles. If you think, it is suitable for you or you can manage it, then you should go for it. Those who are not sure may consider other shower flooring options.
Conclusion
After going through the details of the pebble shower floor pros and cons, you should find it easier to make the right decision. No matter, what type of flooring you choose, there is always a downside. So I would say, it is better to go with the option you desire the most.